World
Top 17 underrated summer travel ideas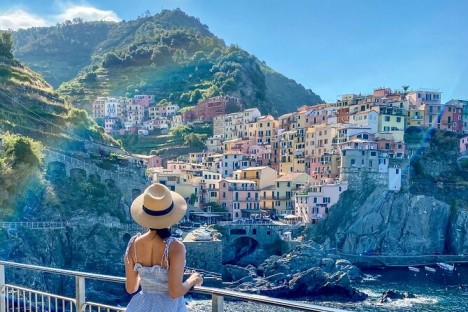 When it is the summertime. Everyone just wants to relax, isn't it? A special summer get away is all that we need to bust the heat. In this article we will help you explore our world even better! Come with us and dive into the world of most underrated summer travel ideas. We have found out some of the most the underrated summer travel ideas in USA, underrated summer travel ideas Europe and also some of the best unknown vacation spots in US
Best 17 unknown vacation spots travel ideas
1.Italy's Cinque Terre
It is a place to be at! Originally known as the 'five lands'. The place is situated in the northwest of Italy. An absolutely enchanting costal region waiting just for you. 'Cinque Terre' originally translates to 'Five Lands'. Thus, it is simple to understand that the place is group of five small coastal villages which are waiting for you to enjoy their serene!
2. Indonesian Islands of Gili
It is a group of three small islands. Located in the northwest coast of the beautiful Lombok, Indonesia. If you are looking for the tranquil paradise. Then you can not miss being here. The tropical getaway is a must to experience once in a lifetime.
3. The Cook Island's Aitutaki
From the South Pacific Ocean, a beautiful place which is a part of Cook Islands. This place is famous for its crystal-clear turquoise coloured water, coral reefs and the beauty of tropical islands. It is actually one of the 15 islands which is responsible to make up the Cook Islands.
Read also: Where to stay in Cape Cod for an Authentic Experience
4. Croatia, in Pula
From the coastal city located in the Istrian Peninsula of Croatia. This place has the rich history and culture which goes back to thousands of years. The place has combination of culture, natural beauty and seaside. The roman history is what have to experience when you reach in Pula.
5. Mexico's Tulum
Located on the eastern coast of Mexico's Yucatan Peninsula. The destination is a combination of Mayan history and natural beauty. The place has beautiful well-preserved ruins and stunning beaches. The bohemian vibe is best if you are looking for something that. With beautiful beaches and temples, add it your bucket list today!
6. Bay of Islands, New Zealand
Located in the north of New Zealand's North Island. The rich marine life and coastline are the famous spot of this beautiful place. Filled with stunning coastal landscapes, crystal water and great history. Do not miss out on this beauty.
7. The Portuguese Algarve
Another beautiful destination! Surrounded by beaches and cliffs. The rich history and vibrant culture of the place is all you need as a summer treat. Summer coastlines are perfect for summer getaway.
8. North Carolina's Lake Lure
Crystal clear lakes, and scenic beauty. This place is not only relaxing but also a treat for your eyes. Packed with various outdoor activities, a perfect place for adventure lover. And the city life is something you would love for sure! Blue Ridge mountains are the highlight of this beauty.
9. Clearwater, Florida
It is a beautiful place. Having great blend of relaxing scenery, exciting adventures and deep culture. Explore the Clearwater for a summer getaway. Located in Pinellas County on the west of Florida is place you should visit if you love the sandy beaches.
10. California's Mendocino County
A beautiful place surrounded by greenery and beautiful landscapes. From adventure to landscapes. It has everything you need. Their lush forest is all you need to achieve some peace. Relax in the city and enjoy some vineyards..
11. Big Sky, Montana
Another underrated summer travel ideas in USA is this beautiful place. Nestled in the Rocky Mountains of Big Sky in Montana. The place is breathtaking! The relaxing atmosphere is not more than a summer treat in itself. And if you are an outdoor enthusiast, then do visit Big Sky.
Also read: Women Travelling Together: Empowerment and Adventure
12. Lake Moosehead in Maine
From the wilderness of Maine's North Woods. This place is a hidden gem. They offer various water-based activities and many other outdoor activities. Moosehead is largest lake in the US state of Maine. It's is unspoiled wilderness is perfect to regenerate and refresh your whole life.
13. State Park of Slide Rock in Arizona
Situated in the heart of Oak Creek Canyon in Arizona. It is a beautiful and unique place. And gives you a refreshing experience. If you are looking for the relaxing vacation place. Then visit the beautiful State Park. And if you are there, then do not miss out on the Natural Water Slide!
14. Oregon's Mount Hood
The highest peak of Oregon. It is a great symbol of Pacific Northwest. This place holds year-round outdoor activities. Packed with great adventures and peaceful mountains. This is place you cannot miss this summer. Majestic place to experience the natural beauty!
15. South Dakota's Black Hills
Such an amazing and underrated summer travel ideas. The beauty is just breathtaking! The landscapes so beautiful that you would just want to stay here forever! Explore the beautiful monumental sculptures at Black Hills.
16. Great Basin National Park, Nevada
However this place is situated at the remote area, still it is something one should definitely experience in their lifetime. Filled with ecological diversity. And having a unique blend of desert landscapes and pine forests.
17. Jackson, Wyoming
Looking for a perfect getaway? Look no more because you have just found your destination. Filled with vibrant atmosphere. This place is famous for its cultural attractions and natural beauty. A charming town in western part if US. surrounded by natural beauty and breathtaking view.
FAQs
What some of the underrated summer travel ideas in USA?
There are lots of underrated summer travel ideas for you. Bay of Islands, Lake Lure, Big Sky are some of them. For further details you can go through the article above.
Are there any best unknown vacation spots in US?
Yes, there indeed are various best unknown vacation spots in US.
How should I plan my summer travel ideas?
Start by making a list of places you wish to visit, list of things you will need and then plan accordingly.
Is it a good idea to explore underrated summer travel ideas Europe?
Yes, the places mentioned above have great locations and scenery. Along with that they have many outdoor and water-based activities.
When is the right time to visit these places?
We suggest to explore these places in summertime as many of them are the beach places. For non-beach places, check the weather forecast before visiting them.
Related Article: Costco Travel: Must To Know Before You Book 2023 Review
Also read: Top 10 places to travel without a passport: A Passport-Free Journey