World
Where to stay in Cape Cod for an Authentic Experience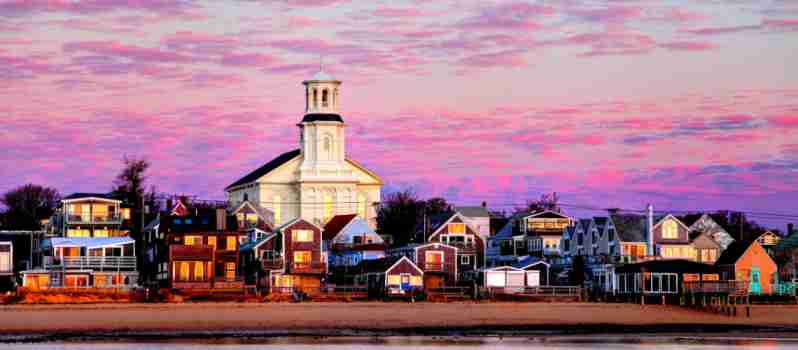 Cape Cod is a well-known and amazing location in Massachusetts, USA! There are several antique lighthouses and aid ships in their navigation. People enjoy Cape Cod because it is a large adventure playground. Hiking in the forests, biking along scenic pathways, and even whale watching to witness massive whales swimming in the water are all options.
It's also simple to stay on Cape Cod. There are lovely cottages, stylish motels, and even camping. And don't forget about the delicious cuisine! You may try delicious fresh seafood such as lobster. There is a particular area for you to stay if you wish to enjoy the true charm of Cape Cod. Think of waking up to the sound of seagulls and the aroma of salty sea air. Staying in a location that seems like a home away from home will allow you to immerse yourself in Cape Cod's welcoming ambiance and make lasting memories.
Where to Stay in Cape Cod
Some of the best options to stay in Cape Cod include Provincetown, Hyannis, West Yarmouth, Falmouth, Chatham, Martha's Vineyard, and Nantucket. These locations are quite beautiful, with gardens or a view of the lake. Friendly folks who can give you exciting stories about the Cape generally run them. You may also try delicious Cape Cod cuisine.
The Top 8 Places in Cape Cod
The question arises is where to stay in Cape Cod? In this article, we will read about a few places in Cape Cod. These places are perfect for families and couples. Let's explore the top 8 places in Cape Cod.
Provincetown
Provincetown is the hippest spot on Cape Cod. It's located near the very tip of the Cape. It's popular due to its colorful residences, and a large, lovely beach. Besides, there is a very tall monument that you may climb to witness spectacular views. You may enjoy cool parades and great street performers.
Read also: Women Travelling Together: Empowerment and Adventure
Hyannis
Hyannis is a village in Massachusetts. It has famous beaches including the huge Kalmus Park Beach and the luxurious Kennedy Compound. The Cape Cod Maritime Museum offers boat-building exhibitions at the harbor. It is one of the safest places to stay in Cape Cod. If you are planning to travel with you family, then you may consider staying here.
West Yarmouth
West Yarmouth is a popular Cape Cod destination for a reason. You can play mini-golf on fun courses, race go-karts, and cool down at a water park. If you enjoy animals, there is a zoo nearby where you may observe a variety of them. Don't forget about the delicious ice cream shops. The shops there offer the best flavors like chocolate fudge and mint chocolate chip.
Falmouth
Falmouth is a town on the southwest corner of Cape Cod. This place has harbors, magnificent beaches, and maritime heritage.
For good reason, Old Silver is the most popular of all Falmouth beaches. It's long and broad, with crystal clear water and the views are spectacular. You may have a lot of fun here all day, or you can rest on the beach. Falmouth has been named the second-best location to live in Cornwall for 2023 by residents.
Chatham
Chatham is a convenient anchor for a wide-ranging Cape Cod vacation as well as a fantastic spot to stay in for a week, with sandy beaches, a busy Main Street vibe, and gorgeous seaside hotels. You may use Chatham as a base to explore the rest of Cape Cod or stay for a week to unwind and forget about everything. There are several activities available to do too. While certain items may be more expensive, you will realize that it is well worth it for a great family holiday.
Martha's Vineyard
Martha's Vineyard is a little island off the coast of Cape Cod that is quite busy during the summer! Downtown districts have fantastic stores and delicious eating places. There are high cliffs, pristine beaches, marshy plains, and even two wildlife preserves. In the late 1600s, a deaf community resided here, which is also quite important to know.
Nantucket
Nantucket was a significant location in writings. It was the world's capital for whaling in the 1800s. Many large ships would leave from here in search of whales. If they were lucky, they returned with barrels of oil. Which people used to light their houses all across the world?
You may still learn about this history at the Whaling Museum on Broad Street today. Here, stay can be a little expensive. However, many people believe it is well worth it because you get to go on a fantastic island trip.
Outer Cape – Eastham, Wellfleet & Truro
Let's know the three Outer Cape towns of Eastham, Wellfleet, and Truro:
Eastham is home to some of the most beautiful beaches on the Cape, including Coast Guard Beach and Nauset Light Beach. You guys must visit the Nauset Lighthouse. Climb to the peak for panoramic views of the shoreline.
Wellfleet has some of the best ocean surfcasting, freshwater ponds, and Cape Cod Bay boat fishing.
Truro has fewer people than it had in 1840, when Pamet Harbor was a whaling and shipbuilding port, which is one of the finest reasons to visit. There is no actual commercial development here other than gorgeous mansions nestled into the hills. It is more of a tranquil and rural world of hills, valleys, and rivers with residences hidden amid the trees.
Conclusion
There are several best places to stay in Cape Cod on the beach. Some of them include Chatham, Martha's Vineyard, and Provincetown. It has beaches, the best lighthouses, good experiences, and tasty seafood. This place can be great for everyone, whether you're a family searching for a calm vacation or a couple looking for excitement.
So, we just read about the places to stay in Cape Cod. Which one does you like the most?
FAQs
Question. Where to stay in Cape Cod with family?
Answer. Hyannis, Falmouth, and West Yarmouth are the best places to stay in Cape Cod with Family.
Question. Where to stay in Cape Cod for couples?
Answer. The couple who wants to visit Cape Code can choose these places to stay-Provincetown, Chatham, and Nantucket.
Question. What are the best towns to stay in Cape Cod?
Answer. Hyannis, Falmouth, West Yarmouth, Provincetown, Chatham, Nantucket, Eastham, Wellfleet, & Truro are all good tows to stay in Cape Cod.
Related Article: Costco Travel: Must To Know Before You Book 2023 Review
Also read: TRAVEL TIP TUESDAY Top 10 TIPS FOR MAKING TRAVEL STRESS-FREE
(By Simran Singh)