World
Women Travelling Together: Empowerment and Adventure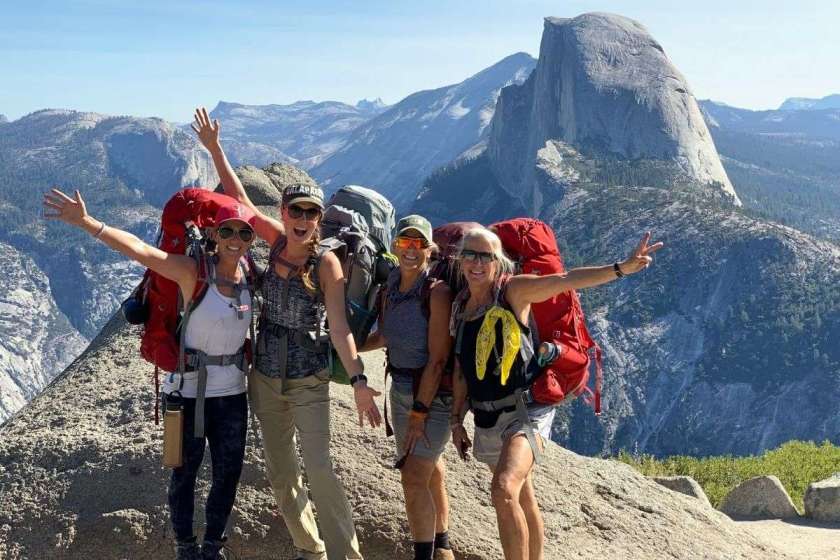 During and after Covid 19, the travel industry has suffered a big downfall in every corner of the world. The people who suffered the most were small organizations and women. To achieve continuous and viable growth in the tourism sector and other sectors of the world, equality among genders and empowerment of women is necessary.
As per reports and research, around 65% of unaccompanied travellers are women between the age group of 30 and 70. Where women are being told what to do and what not to do, traveling is a way to break all cliché and increase women's part in the traveling world which has changed their role together in society. Women traveling together has encouraged empowerment over their own lives. Women travel groups are traveling and exploring all sorts of fields from charming villages to big cities. When it comes to traveling and exploring, solo travellers have contributed a lot in changing the numbers and advancement of the traveling industry. These days with hectic schedules and stress, people go for soul-searching. This is the reason, the traveling industry is seeing an increase in several solo women travellers. Women traveling together around the world learn a lot about different cultures, people, architecture, and history. This will empower women to become independent and self-confident. Apart from solo traveling and soul-searching, they get a chance to make their trip more meaningful by contacting women and female organizations around the world. This gives them a chance to empower themselves as well as other women on their travel journey.
The Rise of women-Only Travel Groups
There is no reason to decline that women traveling together tours are implausible and soul-filling journeys. Some may stop themselves from going on this girl's trip due to nervousness or time issues reasons. However, it is worth a try. Women travel groups get an opportunity to share their experiences and past stories and learn from them. Along with past experiences, they grab the chance to create new stories. You get to do all together from hiking to surfing. Plus, you do not have to suffer from the pain or emotions alone, your travel partner feels the same which makes you more comfortable with them. Apart from this, it creates a feeling of female solidarity while enjoying your total freedom.
Empowerment through Shared Experiences
not every day do you get a chance to get out of your comfort zone, feel attractive, happy, brave, and bold to travel and achieve what is yours. Step out and go for a girl's trip and grab the opportunity to learn something new every day and share your experience as well. Being a woman is tough, but being in a women's travel group helps you live your dreams to the fullest without worrying about what others will think as they will feel the same as you do. When you travel together, you tend to share your past stories and experiences at some campfire which comes out straight from your heart. Sharing and traveling with one another makes you feel comfortable and encourages women to empower.
Also read: Costco Travel: Must To Know Before You Book 2023 Review
Benefits of Women's Group Travel
one thing that concerns the most when it comes to women travelling is how safe and secure a trip is. Given a proper safe environment, women travelling together tours have gained immense popularity recently. They are eager to explore new destinations and communicate with other women's travel groups. Some of the benefits that women's group travel has are.
Safety is the biggest point here. Solo-travellers may face some issues or dangers in a male-dominated country while traveling. However, if traveling in a group you get help and support from each other and can face any danger together.
Traveling with a women's travel group help you have some specific experiences that you won't get with a mixed travel group like visiting women's organization and seeing how empowerment grows within the society.
Another benefit is building a friendship and social circle with your travel group and getting new opportunities to have new experiences.
Choosing the Right Destination
every person is different and so are their preferences. With research being conducted, a study shows that around 1/4th of women travel groups prefer adventurous spots when choosing their destination, while some prefer destinations where they can learn and feel connected to a particular country's culture and customs. If you travel in groups, it becomes easier to know more about adventure activities and choose the one in which you are comfortable. Another factor in choosing the right destination is checking out reviews updated online about a particular resort or place where you are planning to go. See if women have made any comments. This is because women might feel happy and comfortable with something that men don't feel much affected by. So if you are in a women's travel group, women's reviews will matter a lot while choosing your destination.
Safety and Security Measures
Safety and security are a big concern when traveling, especially for women traveling together or solo. You can ensure your safety while keeping in mind a few points.
Before you go on a trip, make sure you keep your travel insurance updated and handy.
Share your journey path with your friends or family members and keep them posted about your whereabouts.
Check the online government website and if given an option, enroll your trip there which helps you receive alerts at every point and secure you from any kind of emergency.
If you are traveling abroad, buy a local SIM card of that country so that you can stay connected with your family even miles apart.
Pack your travel first-aid kit for safety purposes and also your portable power bank so your phone remains charged 24/7.
Budget-Friendly Travel Opportunities
planning and travelling for a girl's trip has been on your mind for a long, but are stuck between budget issues? Sometimes choosing budget-friendly destinations becomes a task to complete. Some locations are pocket-friendly and you can enjoy it to the fullest.
1- Thailand
Thailand is not so costly and a safe place for women. It is the one destination your decision to choose it can never go wrong. Explore Bangkok, and check out its incredible monasteries. Thailand is famous for its street food, beautiful gardens, and big malls. Also, Thai people respect women a lot and are friendly.
2- Bali
Bali is a super budget-friendly country to visit. You can enjoy luxury as well as keep it a cheap trip at the same time. You will see amazing Islands there which won't cost you much.
Breaking Stereotypes and Challenging Norms
you are traveling alone? There are only women in the group who are going to travel to another country. These are some questions almost every woman has to face. People find it hard to believe that women can travel on their own without any help. There are stereotypes like women are too weak to travel alone. However, this is all wrong, according to some research, it has been proved that women have a high life expectancy as compared to boys. They are equally capable of doing all physical activities. Another stereotype that women face is they should not travel alone. But, women traveling alone does not lead to risk, it is men who need to clear their intentions. Plus being alert and aware is what prevents a crime.
Exploring New Cultures Together
Women traveling together has been encouraged a lot recently. This makes you more confident and independent in planning your trips taking help from online resources and channels. Traveling in a women's group means traveling solo, which is why women tend to share their experiences and discuss about country's culture with each other. This information helps you stay open-minded and create excitement to experience the country's culture more closely. This also improves your communication skills as you get a chance to interact with a lot of different people of different cultures.
How to Initiate a Travel Group
if you are travelling all alone for the first time, then try and create a group for yourself including other women who want to travel to the places where you want to go. You can do this via online channels, or directly communicating in public. This encourages you and other women to take the first step and go for this trip promoting women empowerment and building confidence in every single person in your travel group. You can take your friend or a family member to travel along with you and have the experience of a lifetime.
Conclusion
travelling with a women's group helps you step out of your comfort zone yet still stay comfortable with others in the group. It also builds trust among each other and you feel confident around them. So break all stereotypes for women who travel alone and grab this chance to explore the world out there.

Read Also: The Mexico City travel tips Hidden Guide to the Best Way?

Related Article: Top 7 Punta Cana travel tips for a Wonderful Vacation