World
20 Best Places To Solo Travel As A Woman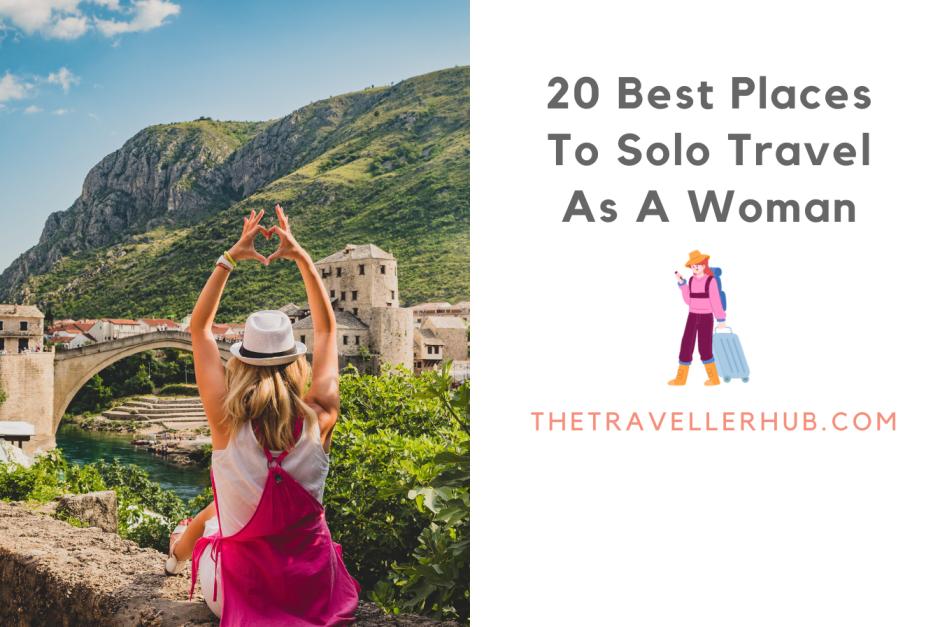 Hi, fellow traveling on your own. Here's where your journey starts. Traveling alone is an amazing gift. You will discover so much about yourself, meet so many amazing new people, see so many colorful landscapes and buildings, and meet so many lovely strangers. The world is your oyster, The Best Places To Solo Travel As A Woman are those where the people are especially kind and inviting, or where there is a lot of social interaction because of common interests like diving or surfing, and even while the location may be a little off the beaten path, it isn't so far away that you will be the only visitor. It still has that unique charm that gives it a warm, genuine feel.
Travelling alone can raise a variety of concerns, from the awkwardness of dining alone to more serious safety concerns, particularly for women, whether you're visiting a city within your own country or abroad. Travelling alone, however, can be much free and fulfilling, allowing you to fully involve yourself in the local culture and discover those unforced moments of cross-cultural connection.
Top 20 Places For Solo Travel As A Woman
1. Iceland
safest country for solo female travel 2023, can have an amazing experience in Iceland and feel safe while doing so by exploring the pleasant streets of Reykjavik, searching for the northern lights, and driving the knowned Ring Road. Visitors may be confident that safety and gender equality are valued in this naturally beautiful destination.
2. Mt. Koyasan, Japan
To be fair, if you're going to travel to Japan, you should see more than one city, but world traveller Shannon Ullman suggests that Mt. Koyasan is one place you should put on your solo travel bucket list. It is the best place to solo travel as a woman.
3. Tuscany, Italy
Pack your bags and head to the Tuscan region of Italy if you'd rather have an Under the Tuscan Sun experience than an Eat, Pray, Love moment in Rome. It is the best country for solo female travel.
4. Barcelona, Spain
If you have a map of some sort, you should have no trouble getting lost in Barcelona as it is a very walkable city. You can explore the window shop along Las Ramblas, stroll along the beach boardwalk, and enjoy the gardens and expansive city views for yourself. There are plenty of dining options for solo female travellers.
5. Washington, United States
The U.S. capital is a best place to solo travel as a woman to visit due to its compact size and simple layout. You can walk through and enjoy free admission to the many Smithsonian museums (as well as the zoo) in addition to seeing the memorials along the National Mall. Use the effective D.C. Metro to travel to neighbouring places for the day.
Recommended to read: Solo travel tips safety advice
6. Mykonos, Greece
You could be carried away by the allure of this enthralling oasis when you first think of the Aegean Sea's ombré waters. Instead of breaking out your heart-shaped glasses and planning your dream honeymoon.
7. Munich, Germany
In this Bavarian city, visitors and locals connect over brötchen in mom-and-pop bakeries and pints in the biergartens, exemplifying the cheerful German mentality. While Munich's beer halls retain a year-round festive atmosphere, Oktoberfest takes place exclusively in the autumn.
8. Switzerland
Even though visiting Switzerland's breathtakingly beautiful country could be expensive, host and traveller Kelly Rizzo of Eat Travel Rock assures us that your solo journey will not disappoint.
9. Northern Ireland And The Republic Of Ireland
Searching for a secure nation where people will gladly show a visitor around and offer her a pint, or three? According to Schwartz, solo female travellers who want a beautiful adventure but still want the comfort of being surrounded by native English speakers should definitely visit Ireland. it is the safest country to solo travel for a woman.
10. Dubrovnik, Croatia
Travelling to Croatia is now easier thanks to the country's low crime rate and growing tourism industry. There are lots of options for kayaking and snorkelling via tours and rentals available right on the beach, only a short distance from Old Town.
11. Vietnam