World
All inclusive vacations for solo female travelers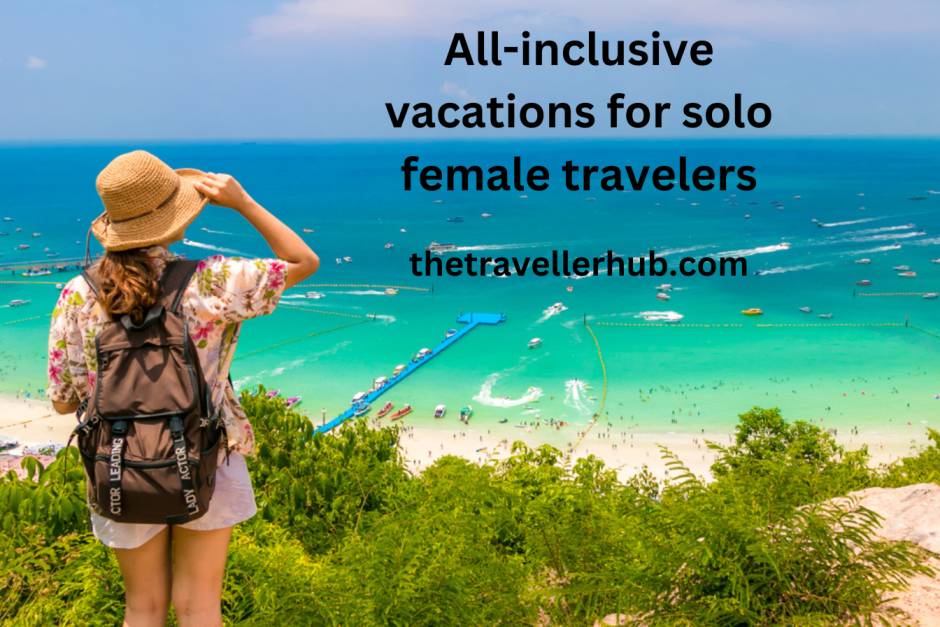 We will discuss in this article about "All inclusive vacations for solo female travelers". It is not necessary to go on vacations with your partner, family, or friends. Now the times have changed because people have started going on solo Travels. A solo trip also gives a different level of confidence, no? Through solo trips, they get personal time; explore culture, and much more.
Top 10 All-Inclusive Resorts for Solo Travelers
We are going to talk about 10 such all-inclusive resorts that are best for solo travelers.
1. Hollywood Planet Costa Rica
Planet Hollywood Costa Rica is an autograph collection all-inclusive Resort. It is a star-studded destination nestled on the base with 292 Suites. It has cinematic views, 7 restaurants, 5 bars, and 2 serene swimming pools.
It is a prime location on Kabera Bay's sheltered shores surrounded by lush jungle. It's the perfect place to enjoy a moment in the spotlight. Plus it's conveniently located 40 minutes from Costa Rica airport.
2. In Mexico, Delta Hotels by Marriott Riviera Nayarit
It is the first Delta Hotel in Mexico and the first all-inclusive Delta Resort in the world. This resort offers various services that are suitable for solo travelers. It is located along the Pacific Ocean shore. You will notice that in this resort there are various room types. It has suits that most people opt for as these suits have modern decor and furnishings. There are outdoor pools, gyms, spas, and a kid's club as well.
3. Hilton Beach Resort in Grand Cayman
This one is among the friendliest resorts. It is near Seven Mile Beach. This resort offers you luxury and convenience. It has rooms and studios with modern facilities. The rooms have smart TVs, kitchen with microwaves, and mini-fridges. When you opt for the all-inclusive package, you will get to enjoy the outdoor swimming pool, free Wi-Fi, and parking.
4. Casino Royal Beach & St. Kitts Marriott Resort
This resort is in Frigate Bay and it is one of the coolest resorts of all. A business center and the SKY Ultra Lounge are also available here in the Royal Beach Casino. The casino has a very fun atmosphere, which is perfect for gaming lovers. The weekend times with credits per stay make it a place for a good stay.
5. Stellaris Casino & Aruba Marriott Resort
The location where this resort is located is wonderful. It is located only 20 minutes away from the airport, so you can easily reach the resort. Here you can enjoy different sports activities as well. Because of this, it becomes easy for tourists and helps them to travel less. The lobby has high ceilings and gives an open-air feel. The rooms are outstanding like the beachfront junior suite with its wraparound balcony.
6. Spa Resort Lake Austin, Texas
This resort is very close to the sea, due to which you can explore a lot of things. They have a spa with various cool treatments and water sports activities. The food here is amazing, and famous chefs cook there sometimes. The rooms are nice and some of them offer a lake view. The staff of the resort is kind and ensures that you have a fantastic experience.
Read also: is cartagena colombia safe to travel solo for Tourists?
7. Dreams of Belize Resort in Belize
This is an all-inclusive resort that is best for solo travelers to couples looking for adventures. You can choose the Belize Mayan Jungle and Beach Package or the all-inclusive Package. You have 3meals per day, unlimited local drinks, and round-trip airport transportation. Their housing provides individualized service.
8. Canadian Rockies' Glacier View Lodge
This resort is in Columbia Ice Field which offers stunning views and suites. They provide two options from which you can choose the one you like. These 2 options include "Room Only" and the other one is "Columbia Ice Field Guided Experience" package. The restaurant of this resort is top-tier. You can enjoy Canadian-inspired cuisine if you like. The free Wi-Fi and glacier tours are also included in their all-inclusive package.
9. Body Holiday in the Caribbean
This one is the best all-inclusive resort in St. Lucia. It is famous for providing many great services to its guests. They provide very good services to their guests and the rooms here are also very good. Some rooms have ocean faced view and some are normal rooms. The staff here is always ready to help you because according to the reviews the staff here is very attentive. This makes the resort the best for a refreshing vacation. While some people have mentioned that, there is some need for improvement.
10. Key Largo Bungalows in Florida
This is an all-inclusive resort on 12 waterfront acres in Key Largo, Florida. This resort offers big bungalows with 900 square feet of indoor and outdoor living area. The best thing is each bungalow has a large private outside area. The area includes a deck, a private outdoor garden shower, and a soaking tub.
Singles vacations over 40 all-inclusive
Here are some options for vacations for solo travelers over 40-
The Grand Hotel Villa Serbelloni, Bellagio, Italy
Blau Varadero Hotel, Varadero, Cuba
Paloma Pasha Resort, Menderes, Turkey
Temptation Cancun Resort, Mexico
Singles vacations over 50 all-inclusive
Great resorts for vacations for solo travelers over 50-
Temptation Cancun Resort, Mexico
Wymara Resort & Villas, Turks & Caicos Islands
Barcelo Bavaro Beach, Dominican Republic
Sivananda Ashram Yoga Retreat, Bahamas
Summing It Up
We read about some of the best "All inclusive vacations for solo female travelers". I hope this information will be useful for solo travelers. It is important to know about the resort where you will be staying. Make sure to do all your research so that you won't have to face any issues.
FAQs
Question. What are the cheap all inclusive vacations for solo female travelers?
Answer. Mexico, Thailand, Costa Rica, Bali, and Turkey offer cheap all inclusive vacations for solo female travelers.
Question. Are all-inclusive vacations worth it?
Answer. Yes, but it all depends upon the package you are choosing. All-inclusive holidays can be wonderful if you want a normal trip. The all-inclusive package comes with most things included.
Also read: Costco Travel: Must To Know Before You Book 2023 Review