World
WHERE TO STAY IN ZION NATIONAL PARK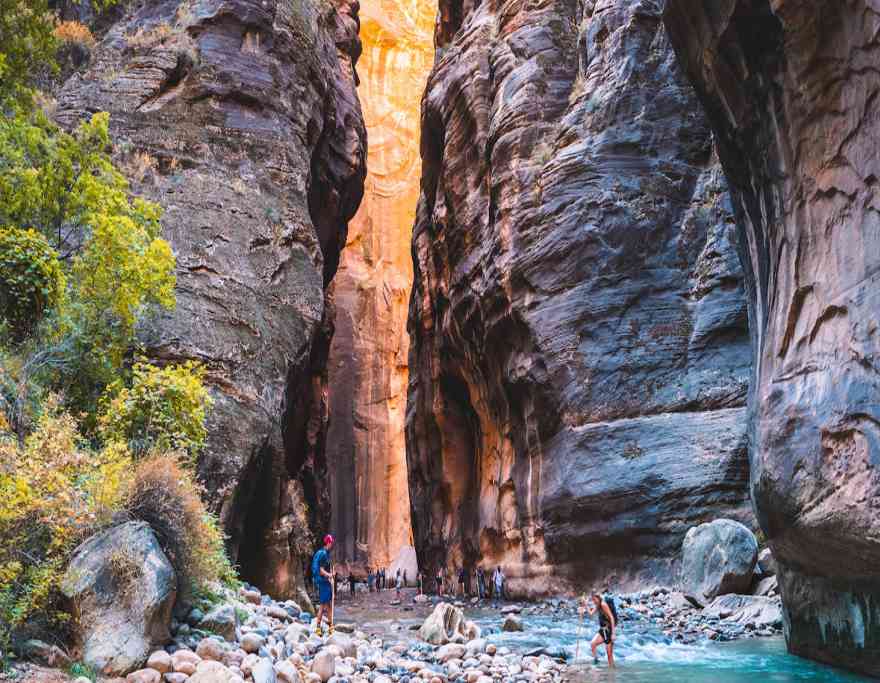 Zion National Park is one of the best national parks in the USA. You will get to see sandstone cliffs out there. It is especially known for the Zion Canyon. More than millions of people from different countries in the world visit this park annually. The previous name of this park was Mukuntuweap National Monument. Previously, this park was not meant for access because the road conditions were not good. Railway and other transportation services were also not good. This place is not just a park to visit now, but also an archaeological wonder to look at. The canyon out there is always changing because of the river channel and its tributaries. Rock climbing is a great adventure at the sandstone cliffs in the park. The best time to visit Zion national park is the fall season.
Quick List of Hotels in Zion National Park
The Best Places to Stay in Zion
Best luxury hotel in Zion
Where to Stay Between Bryce Canyon and Zion
Zion National Park's cheapest hotels
Zion's Most Original Hotel
Where to Stay in Zion for Early Morning Walks
CHEAP HOTELS IN ZION NATIONAL PARK
Hotel Zion
Here, you would get the basic facilities. This hotel is in La Verkin. In this hotel, you would get amenities like AC, a coffee machine, and free Wi-Fi. Red Cliffs National Conservation Area is near it. This hotel is clean.
Zion Park Motel
This motel is near the park at a distance of 1 mile. The amenities at the motel are microwaves, AC, free Wi-Fi, and many other amenities. There is a barbecue area also. There are good restaurants near the motel.
Under The Eaves Inn
Under the Eves Inn was established in 1931. There are private gardens in this hotel where you can fully rest. You can climb the trails to Angel's Landing. There is a grocery store near the street. Shuttle stops are easily accessible from there.
Zion Wildflower
This resort is a new resort made for glamping around. There are wild-covered wagons in the hotel. Some new amenities like a new pool and hot tub have now been introduced in this resort. There are barbecue and fire pits also in the resort. It is the best resort near Zion National Park.
Read also: Top 17 underrated summer travel ideas
Mid-Range Hotels in Zion National Park
Red Rock Inn
The facilities in this hotel are gardens, hot tubs, fire pits, and many others. This hotel is also one mile away from Zion National Park entrance. This hotel is the one of the best B&B in Zion. It is a cottage-style hotel. Some of the rooms are designed just like Angel's Landing hiking place.
Springhill Suites
This hotel is operated by Marriott in Springdale. For anyone planning to enjoy a trip to the park, Springhill Suites is a good option. The facilities provided by the hotel are pools, hot tubs, a fitness area, and shuttle services. Microwaves, mini-fridges, and TVs are other facilities. This hotel is a smoke-free area.
La Quinta by Wyndham
This hotel is in southwest Utah. The facilities given at the hotel are a fitness center, pools, Wi-Fi, and others. Red Cliffs National Park and Grand Canyon National Park are near the La Quinta. There is a free Bright Side Breakfast Center in this hotel. At this hotel, you can bring your pets with you.
Zion & Bryce Glamping
This resort is known for glamping. There are yurts near it. In the resort, you would find secret hiking areas that you wouldn't find elsewhere in the park. Football, hot tubs, and pool facilities are there at the park. You can visit the Bryce Canyon National Park near it.
Flanigan's Inn
Flanigan's Inn is close to the free shuttle stop. You find gardens in the Flanigan's Inn. Bars and restaurants are near and within walking distance from the hotel. The amenities in this hotel are a coffee maker, Wi-Fi, and spas. You will get a unique park lodge experience there.
Where to Stay For Luxury in Zion National Park
Under Canvas Zion
You will get an alluring experience there. You will find glamping tents with all the facilities that give you a lavish experience. The hotel offers stunning views of red rocks and sandstone cliffs.. You will get safari-style tents there. When you want a luxury hotel for your quest of where to stay in Zion National Park, then this is one of the best option
Zion Canyon Inn & Suites at Best Western Plus
This hotel is also just 1 mile away from the Zion National Park. The shopping places and restaurants are near and easily accessible from the hotel. There is a free shuttle service near the hotel. A fitness center, free Wi-Fi, and free parking are some of the features. This hotel is a smoke-free area.
Cable Mountain Lodge
The various facilities at the lodge are a fitness center, pool, restaurant, and coffee area. Some of the rooms also have kitchen facilities with full kitchen goods. Shopping and eating areas are near the hotel. You will get 24-hour concierge services with this lodge. This is a mountain-view hotel.
Zion Lodge
It is an in-park lodging that is the only lodge out there. You will find special winter offers at this Lodge. This lodge is the best place to stay in Zion National Park. It is a spacious lodge. You get free Wi-Fi, AC, and shuttle services there.
The Watchman Suite
The Watchman Suite is an apartment-style hotel suite at LaFave Resort. You will get the wonderful views of the red rocks from the hotel. There is a private patio in this hotel. A shuttle stop service is just outside this hotel. There are full kitchen facilities in the room.
Springdale Holiday Inn Express
This is an IHG hotel. Shopping areas and restaurants are also near this hotel. Fitness centers and pools are great facilities of this hotel. A special facility of this hotel is the business center. So, you can work while you are in the hotel.
Zion National Park nearby Camping
Campground Watchman
You will get tents and electric campsites at the campground throughout the year. You will get fire rings there. RV or recreational vehicle is easily offered there. You can take pets to the campground. There are seasonal amphitheatres out there.
South Campground
You will get barbecue and fire pit areas in the South Campground. Pets are allowed at the South Campground. The campground is juts few miles away from the main visitor site. There are three trails out there: Watchman trail, Archaeology trail, and Pa'rus trail. All of these trails can be accessed seasonally through shuttle system.
Conclusion
When you want to stay in this park, some of the best hotels are Hotel Zion and Under Canvas Zion. For camping in Zion national park, you can stay in Campground Watchman and South Campground. The best part of this park is undoubtedly the Zion Canyon. Visiting this Canyon should not be missed while visiting the park. You would get the most scenic views out there.
FAQs
When was the Zion National Park established?
1919.
Was Zion National Park established as a park in the beginning?
In the beginning, it was a national monument.
Do you need a ticket to ride a shuttle in this park?
No.
Also read: Where To Stay In Santorini best places you need to know?