World
Where to Stay in Portland: A Journey of Discovery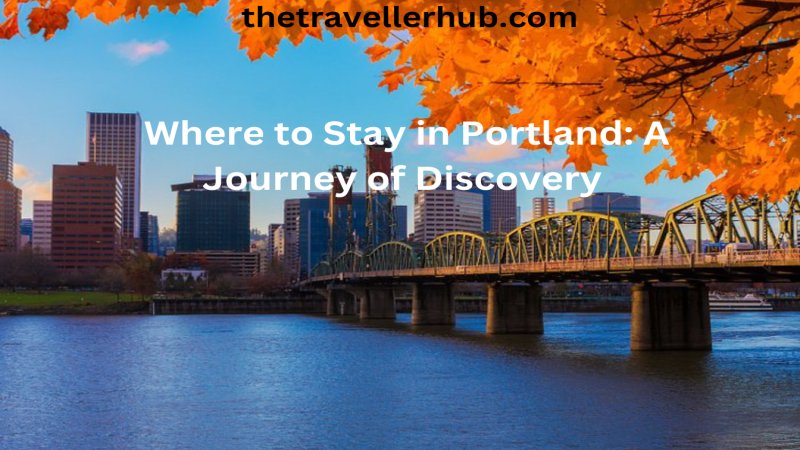 If you want to know about Portland and the places Where to stay in Portland then this blog is right for you. Portland has several options of accommodation that provide peace, homey charm, and everything you need. We will also discuss about its geography and the famous area, which is perfect for the first time visitors, called Downtown Portland.
A Brief Overview of Portland's Geography
Portland is famous as the city of bridges. This city is home to lovely bridges that beautifully cross the Willamette River. These bridges link several beautiful villages. The weather on Portland is moderate. The winters here can be rainy and summer is warm and welcoming.
Where to Stay in Portland: The 5 Best Places to Stay in Portland, Oregon
Let's read about some best places to stay in Portland, Oregon now-
Downtown Portlan:
The first is very famous region called Downtown Portland. It's perfect for those who have no special plans and simply want to see what the city has to offer. This place is full of pubs, shops, restaurants, cafés, hotels, and more. That's why this place is at no.1 and favorite choice of most travelers.
The Pearl District:
was once an industrial region. It has evolved slowly now into the most diverse region today. Several old industrial buildings from that time have been transformed into shops, restaurants, houses, and hotels.
Hawthorne district:
The third place is Hawthorne district. In this place, you can find everything as it offer good facilities. You can find great pubs, restaurants, and stores here. Also, according to reviews this place is famous among young people as it gives a youthful and hip vibe in general.
The South Tabor district:
is mostly a residential neighborhood in the city's center. It gets its name from its location near the southern end of Mount Tabor. This place is perfect as a hiking location and you will find a basketball court to play as well.
Boise
The 5th best place is Boise The majority of this area is mainly residential, with few places to explore. But, there is one region of this place that may be worth seeing for tourists, and that is the Mississippi area.
Read also: Where To Stay In London With Kids
Portland Places We've Stayed
Here are some best hotels to stay during your visit to Portland.
Hotel Lucia
The Benson Portland, Curio Collection by Hilton
Heathman Hotel
The Mark Spencer Hotel
Hampton Inn & Suites Portland-Pearl District
Hotel Deluxe Provenance
The Hotel Zags Portland
The Nines
The above mentioned hotels have some common features. They all provide nice accommodations with big and clean rooms. All these hotels offer convenience, simple parking, at a very reasonable price. And if you like, then most of these hotels provides services that come with happy hour drinks and bike rentals. These hotels show that you may have an elegant stay without paying much. It's like enjoying the best of both worlds without having to worry about your money. You're in for a treat if you choose any of these unique Portland places. Whether you're here work or for any reason, these hotels have everything you need to have a good time.
The Greatest Place for First-Time Visitors to Stay
Staying in downtown Portland is a great idea if you're here for the first time. It's like being right in the middle of everything cool. Nearby you can find museums, parks, coffee shops, bars, and even farmers markets.
The beautiful thing about downtown is that you can walk or take local buses and trains to most areas, saving money on rideshares. It's quite convenient! If you're looking for a centrally located hotel, The Nines or Kimpton Riverplace is two options.
There are many hotel choices in downtown. If you're on a tight budget, shared hostels like HI Portland are an excellent option. If you wish to stay in style, there are plenty of 4-5-star hotels for business travellers or those looking for a lavish vacation. You can also find property rentals in Portland if you require additional space or privacy.
Cons and Pros of Staying in Downtown Portland
| | |
| --- | --- |
| Cons of Staying Downtown | Pros of Staying Downtown |
| Can be noisy, especially late at night. | Easy access to nearby places like restaurants and transportation. |
| Stay and dining options can be more expensive. | You will not get bored, as here you will find several entertaining stuff to do. |
| There may be fewer parks and green spaces for relaxation. | Famous museums, theatres, and cultural institutions. |
| Long traffic jams can be irritating sometimes. | Large number of dining options is available. |
Highlights of Downtown Portland
Pioneer Courthouse Square is that place in where you can find different types of entertainment.
Powell's City of Books is one of the world's largest bookstores there, which you can explore.
Going to Downtown and not visiting Voodoo Doughnut shop is a waste. As this shop is famous for selling tasty doughnuts.
In the Portland Art Museum, you can find interesting art from many eras.
Portland Saturday Market: This is a delightful outdoor market where you can buy handcrafted items, and listen to live music.
Japanese Garden is an extremely quiet place. It's like a small bit of Japan in the middle of the city.
Summing It Up
Now, you know about some best places where you can stay in Portland. I hope you like one of these places to stay if you are planning a vacation to Portland. There are some pros and cons of staying at Downtown Portland, but if we choose our right stay then a lot of fun can be had at this place. You have lots of choices for where to stay. You can choose between a fancy hotels or whatever suits your preferences and budget. I can assure you that during your visit; you'll experience the city's unique nature, and make great memories.
FAQs
Question. Where to stay in Portland for a weekend?
Answer. Downtown Portland, Pearl District, Nob Hill (Northwest District), Alberta Arts District are among the top places to stay in Portland for a weekend.
Question. Where to stay away from in Portland, Oregon?
Answer. Hazelwood around the Gateway Transit Center, Felony Flats, and West Burnside downtown areas have higher crime rates. So, it is advisable to stay away from these areas.
Also read: Loves travel stop : unlocking to the complete guide
(By Simran Singh)