World
Loves travel stop : unlocking to the complete guide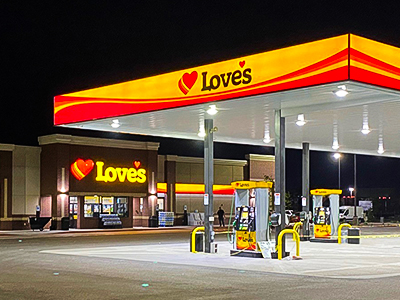 Love's travel stop is a very famous chain of truck stops and general stores across the United States. It will also be easier for travellers. They are a huge network of locations with services like fueling , clean facilities and many food options. It ensures safety and comfort for road trippers. They have a strong commitment towards customer service. They also conduct a loyalty program in which they get reward cards. Love's travel is an all time go to place for people on the road.
History of love's travel stop
Love's Travel stop was founded in 1964 by Tom love. It began as a single filling station in Oklahoma. In these years, it literally evolved into a main chain of truck stops and general stores. Love's growth got the head start by spreading of the United States highway plan. It serves the needs of truck drivers and travellers. The company also offers a main promise towards clean facilities, the quality of fuel and many other food options. It became a trusted name in the industry and it is known for the needy services on the road.
Love's travel stop as a Rest stop
Love's travel stop can also be a rest stop for travellers across the United States. These rest areas give a safe environment and are easy for people to take a short break during long trips. It offers clean washrooms , comfy seating and more often , many food and drink options. They are located majorly on highways. It makes them accessible and easy for travellers. They portray a promising service and satisfaction with a very warm welcoming behaviour. So all these points are really valid and it ensures that love's travel stop can come under the category of the rest .
Travelling with pets
Love's travel stop in Texas knows the main reason for travelling with pets and offers a pet-friendly environment to serve your cute and furry partners. When you stop at love's, you will find pet areas for stretching the body and cleaning up the station. It also provides very clean and fresh water and waste disposal. It can be fun and stress free as love's travel stops make travelling with pets easier.
Read also: Where To Stay On The Big Island: Complete Guides?
10 reasons why we enjoy love's travel stops
A southern family is the owner
Tom and Judy love began in 1964 . They spent around 5000 dollars on a lease at a left out station in Oklahoma. Tom passed away this year at the age of 85. The main branch is still run by the family.
When you need one, there is always a love's right
There are about 600 travel stops in 42 states ,who owns love's truck stop, Nearly each and every highway in the United States is lucky with a rest stop. This mainly means that it doesn't matter how far you drive in the southern area, you are likely to have sweet encounters with the love's stop even far away.
They offer high end road trip food
The most gaining quality of a long hour car ride is all time eating snacks. Like any general store , it has a big choice of packed snacks. But the real deal is the candy line which is branded.
They are open constantly
There is no closing time. They are always open. Be it night or the day, if you are travelling at night you can always have something to eat. This can calm your hunger.
It's an excellent place to stretch your legs
You can always stretch your legs at this stop that might get cramped from the long trip. You can always have a short walk.
There is food available
You can always enjoy a good meal. Even after a long ride you can talk to your family and catch up on the long gone bond. They have tummy filling food such as smoked sausages and tacos.
They give back to their community
This is the main branch as it donates to nonprofits in Oklahoma. This also includes Teach for America, the united way of central Oklahoma and the homefront operation.
They consider all the possibilities
There are many things in the love's travel stop in Texas besides gas and food. There is parking for trucks which is realistic and suitable. Then there are laundry facilities and private shower rooms as well.
Dogs are allowed
The love's travel stop, not only loves human beings, in fact they allow all the pet parents of dogs. Furry friends will get warm and welcome with the dog parks.
There are many tidy restrooms available
The primary reason to stop on the road while tripping is to use the restroom or getting your gas tank checked. Love's travel stop will always surprise you with clean facilities.
Conclusion
To sum up everything in the end , love's travel stops are also known as a well known choice for travellers finding a clean, welcoming and convenient rest stop along their journeys. With a family owned legacy and a promise to quality service , love's has earned its reputation as a well known name on the highways.
FAQs
What is Love's Travel Stop?
Love's Travel Stops is a chain of truck stops and convenience stores across the United States.
Are Love's Travel Stops open 24/7?
Yes, many Love's locations are open 24 hours a day, seven days a week.
Do they offer food and drinks?
Yes, Love's provides a variety of food options, including snacks, hot meals, and beverages.
Are Love's Travel Stops pet-friendly?
Many Love's locations are pet-friendly and offer designated areas for pets.
Do they have clean restrooms?
Love's is known for its clean and well-kept restroom facilities.
Is there a loyalty program at Love's?
Yes, Love's offers a loyalty program called "My Love Rewards" that provides discounts and rewards to frequent customers.
Can I find fuel services at Love's Travel Stops?
Love's provides reliable fuel services, making it a popular choice for refuelling during road trips.
You may also read: Is London Safe For Solo Female Travellers: 15 Tips In 2023