World
Where to Stay in Maine: Top 10 Places You Must Know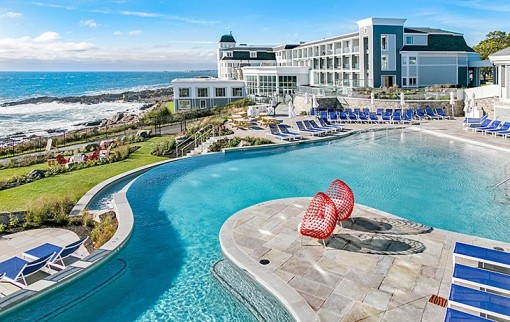 Travelling to Maine? Thinking here to stay in Maine? Well dear reader, why are we here? A beautiful state in the northeastern part of the United States, Maine. It is known for its stunning natural landscapes, coastlines, and charming small towns. If you're planning a visit to Maine, one of the first things that will come to your mind is to find the best area to stay in Maine. To help you make the best choice, we have compiled a list of the top 10 places where to stay in Maine. Hope it helps!
Northeast Harbor's Asticou Inn
Nestled in the charming village of Northeast Harbor. On Mount Desert Island, the Asticou Inn is a delightful place to stay. Surrounded by Acadia National Park, this inn offers breathtaking views. If you are also thinking about where to stay in Maine in summer. then this is a place to be. Whether you are interested in hiking, biking, or simply enjoying the natural beauty of the area, this location has it all.
Inn at English Meadows, Kennebunk
Kennebunk is a quaint coastal town in southern Maine, and the Inn at English Meadows is a hidden gem in this charming community. This bed and breakfast inn is known for its warm hospitality and comfortable rooms. And is also one of the best places to stay in Maine for couples. You can start your day with a delicious homemade breakfast and then explore Kennebunk's beautiful beaches. A perfect romantic getaway!
Read also: Where To Stay In Santorini best places you need to know?
Pomegranate Inn, Portland
Portland, Maine's largest city, is a vibrant and diverse destination. With a thriving arts scene and a rich maritime history. The Pomegranate Inn, located in the heart of the city, is a boutique hotel that offers a unique and artistic atmosphere. Each room is uniquely decorated. Creating a truly memorable experience for guests. With its central location, you'll have easy access to Portland's top attractions.
Hotel on Chebeague Island, Chebeague
For a tranquil island getaway, Chebeague Island is a wonderful choice. The Hotel on Chebeague Island is the only full-service hotel on the island and offers a peaceful retreat from the hustle and bustle of everyday life. And is another one of the best places to stay in Maine for couples.
The Marston House, Wiscasset
Wiscasset, often called the "prettiest village in Maine," is a town on the Midcoast. The Marston House, a historic bed and breakfast, captures the essence of this charming community. The inn is a beautifully restored Federal-style mansion that offers a glimpse into the past. Guests can enjoy strolling through Wiscasset's historic district, dining at local seafood restaurants, and taking in the scenic views.
Hotel on Monhegan Island, Monhegan
Monhegan Island is a remote island off the coast of Maine. Known for its beauty and artist community. The Hotel on Monhegan Island is cosy and welcoming. A great place to stay while you explore the island's hiking trails, rocky cliffs, and art galleries.
Lincolnville's Ocean's Edge Inn
If you are seeking a coastal retreat with stunning ocean views and the best places to stay in Maine on the water. The Lincolnville's Ocean's Edge Inn is an excellent choice. This inn is perched on a bluff overlooking Penobscot Bay, offering breathtaking vistas and easy access to the beach. You can relax on the inn's expansive lawn, take a dip in the pool, or explore nearby Camden and Belfast.
Hotel Claremont, Southwest Harbor
Southwest Harbor is a beautiful town on Mount Desert Island, known for its lobster boats and natural beauty. Hotel Claremont, nestled on the shores of Southwest Harbor, provides a comfortable and inviting stay with its charming rooms and scenic views. Which clearly makes it the best area to stay in Maine. This location is perfect for those who want to explore Acadia National Park.
Brownfield, Frost Mountain Yurts
For a unique and adventurous lodging experience, consider staying in a yurt at Frost Mountain Yurts in Brownfield. Yurts are traditional nomadic tents, but these yurts are equipped with modern amenities for a comfortable stay and become one of the best places to stay in Maine for couples who are looking for adventures.
Nebo Lodge, North Haven
North Haven is a remote island in Penobscot Bay, and Nebo Lodge is a rustic yet charming inn on this island paradise. The lodge offers a unique blend of farm-to-table dining and cosy accommodations. This clears off your question, "Where to stay in Maine ". Guests can enjoy delicious meals prepared with locally sourced ingredients and explore the island's pristine beaches and hiking trails.
Conclusion
With all our special research for you, we can totally say that Maine offers a diverse range of accommodations. Whether you are looking for luxurious inns or rustic yurts, each provides a unique experience.
FAQs
What is the best time to visit Maine?
It depends on your preferences. Summer is said to be the popular time to visit Maine.
Are these accommodations suitable for families?
Yep, many of the accommodations mentioned are family friendly.
Do I need to make reservations in advance?
Yes. It is advisable to make reservations in advance, especially during the peak tourist season.
Is Maine a safe place to visit?
Maine is generally considered a safe destination for travellers. Like any place, it's essential to exercise common safety precautions.