World
Budget Family Travel Guide to Travel with Kids on a Budget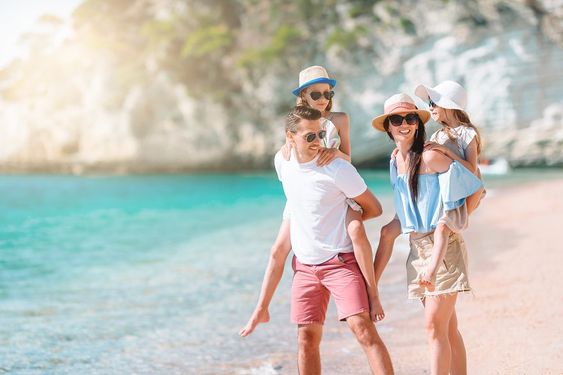 Going on trips with your family is wonderful, but it can sometimes be really expensive. You can make it super fun and not too costly with smart choices. In this article, we will cover everything about 2023, from how to plan wisely and find cheap flights. Also, how you can discover budget-friendly places to stay and make the most of your travel budget. So, let's read about some ideas and turn your budget family travel dreams into reality.
HOW CAN WE AFFORD TO TRAVEL?
Sometimes traveling with family is expensive. But if we plan the trip wisely then we can make it fun and affordable. Let's focus on some key points about how we can make traveling affordable.
Plan Smartly: Start by setting realistic travel goals based on your budget. Think about what you want to experience. Do you want to visit beaches, vibrant nightlife, or natural parks? Look for low-cost vacation spots that fit your desires.
Budget-friendly flights: Try to look for cheap flights. Several online sites can help you find the most affordable options.
Saving up for travel: It is important to create a monthly savings plan and be patient. Booking through a good website can help you break down the costs into manageable installments.
Economical Accommodations:
Make travel a priority: Set your travel goals to save money on avoidable spending. Instead of eating lunch every day, consider what else you could do with that money on your trip.
Read also:
GENERAL ADVICE FOR FAMILY TRAVEL ON A BUDGET
Going on a family trip can create lasting memories for you. The key to a successful budget family travel is smart financial planning. You can find amazing family travel tips below:
1. Plan your travels carefully.
While planning your travel trips, you can consider the following points:
Where to go?
Planning is a must, as you should know where you want to go for vacations. You may consider taking suggestions from family and friends about a few places. Choose locations that provide a variety of activities and don't bore you. Try to look for places known for their affordability.
Exchange rate
When choosing an international destination, pay attention to how strong your currency is against the local one. Look for places where your money's value is higher. This is a way you can achieve a wallet-friendly family trip.
Visa fees
When you're planning your family trip, don't forget about visas. Different countries have different visa requirements, and some can be quite expensive. Some places offer visa-free entry or visas on arrival.
Affordable locations
You can consider these locations if you are planning International family travel on a budget.
Southeast Asia
Mexico
Central Europe
Eastern Europe
South America
2. Off-peak travel times.
The best tip to save money on your family trip is to pick a time when most people aren't traveling.
Accept the less-than-ideal climate
Sometimes, going when the weather isn't perfect can be a money-saver. You might visit a beach destination during its off-season when hotel rates are lower.
Avoid the seasons, festivals, and holidays.
If you can, avoid traveling during busy times like major holidays or big festivals. Prices tend to be higher, and places can be packed with tourists. Consider traveling during the off-season as there are fewer tourists, and prices of stay are lower.
3. Traveling outside of the school holidays.
Some options for traveling outside of the school holidays:
Homeschooling
If your child is homeschooled, you've got a fantastic chance to travel during less crowded times. Homeschooling lets you create a personal education plan that fits perfectly with your family's travel plans.
When the kids are small, take a trip
When your children are in their early years of schooling, they are often more adaptable to traveling. Younger kids may not have strict academic schedules.
Travel long term / Full-time travel
A family may consider going on long trips or even traveling full-time. This means taking a longer break from regular school. During your travels, you can make learning a part of the adventure by visiting museums, historic places, and cool cultural spots. But this may affect the regular studies of your child.
CHEAP FAMILY HOUSING FOR BUDGET FAMILY TRAVEL

Finding affordable housing for Budget family travel can be a tough task. However, you can do your best and consider the suggestions below.
1. When choosing a place to stay, exercise consideration.
Look for accommodations that are within your budget. Try to find low-cost hotels, motels, hostels, and guesthouses. The best way is to read reviews and look for discounts on online platforms.
2. Be creative as there are other possibilities.
Consider the following tips:
Housesitting or house-swapping
These two terms may be new to those who don't travel frequently or who don't travel at all. Housesitting and house swapping have different meanings. Housesitting is like taking care of someone else's home while they're away.
House swapping means swapping your house with another family from a different place. You stay in their home, and they stay in yours. This way, you can enjoy a different location without paying for accommodation.
Go local and pay less!
Instead of big hotel chains, consider locally owned guesthouses or vacation rentals. These options can offer you a good experience and often come at a lower price.
4. Discounts for kids
When you're on a family trip, some places like museums, zoos, or theme parks are extra nice to kids. They often give discounts to children. These discounts usually depend on your child's age. Always ask for these discounts when you're buying tickets.
How to Save on Transportation for Family Travel on a Budget
The best tip among family travel tips on a budget is saving on transportation.
Use local transportation
Consider using the buses, subways, or trains that locals use to get around. It's cheaper and also a great way to experience the place. The best way to see new places is by walking. Choose accommodations that are close to the places you want to see.
FAMILY TRAVEL ON A BUDGET: HOW TO BUY LESS FOOD OR DRINK
One significant aspect of managing your expenses during a family trip is controlling your food and beverage expenses.
Eat Local
When you're with your family, try eating at nearby restaurants or food stalls. These places often serve tasty dishes that the local people love. Eating local food can be both delicious and affordable.
Pick carefully when dining there.
Be smart about where you choose to eat. Look for places that fit your budget and have good reviews from other travelers or locals. Some restaurants near tourist spots can be expensive, so you must check menus and prices.
Save on drinks
To save on beverages, carry reusable water bottles with you. You can also ask for tap water at restaurants. Consider making your coffee or tea at your accommodation.
FAQs
Question. What is the best time to travel on a budget?
Answer. You should try to travel during the off-season to save money on housing and avoid crowds.
Question. What are some pointers for locating affordable housing for families?
Answer. If you want lesser pricing try to look for stay in less tourist places. You may consider house sitting or house exchanging.
Question. What is the best way to find affordable flights?
Answer. You should know how to do research. Compare prices on various travel websites. To take advantage of lesser costs, be flexible with your travel dates.